BOSTON- Mayor Marty Walsh included a definitive pledge with the 2019 update to Boston's climate action plan: the city will be carbon-neutral by 2050. Carbon neutrality, limiting carbon pollution to an amount that can be safely absorbed by the environment, is a lofty goal for the city. However, the world's cities produce 70 percent of greenhouse gas emissions, so such a radical declaration is merited.
Building a Better Future
Boston's climate action plan includes a myriad of policies and ordinances intended to improve energy efficiency and reduce emissions bringing us closer to the looming 30 year goal. The infrastructure these measures impact can be separated into two categories; buildings and transportation. The Building Energy Reporting and Disclosure Ordinance (BERDO) covers the former. The BERDO is a report compulsory to the largest buildings in Boston. Building owners must report for five consecutive years if they meet the following criteria:
Non-residential: Greater than 35,000 square feet
Residential: 35,000 square feet and greater -OR- 35 and more units
Parcels: Buildings with sum total 100,000 square feet or greater -OR- 100 and more units
---
The BERDO report compiles data regarding the energy and water usage of these large properties. However, the reporting itself is only half of the method being used to lessen the environmental impact these structures impose. The Energy Action and Assessment intrinsically tethered to the BERDO is the second half, for it mandates improvement over the five reported years. The improvements made to these buildings must result in an increased Energy Star rating of 15 points or one of several metrics.
A 15 percent reduction of:
Energy usage
Energy use intensity
Greenhouse gas emissions
Greenhouse gas intensity
---
Repercussions and Accountability
Should an owner fail to report by the May 15 deadline or fail to demonstrate one of the improvements listed above, they could be fined daily for an annual total of $3000. However, Boston has rarely issued these fines according to climate and buildings program manager, Benjamin Silverman. Silverman's current workflow includes managing the BERDO reports. While there is a reluctance to issue fines, Silverman has made two key improvements to the 2019 report that should empower the citizens of Boston to hold large building owners accountable. First, he has started the practice of noting possible errors in data reporting. As mentioned, BERDO is self-reported. Anomalies are investigated after being reported and changed accordingly, but adding the notation during this process makes them easier to spot. Additionally, Silverman has added the names of noncompliant locations which were previously omitted. These changes will be added retroactively to previous years.
Silverman anticipates that COVID-19 will impact the BERDO report in a number of ways and that leniency is assured. Hospitals and community resource buildings are likely to see an increase in energy consumption and greenhouse gas emission as they increase occupancy and operation. Smaller businesses on the other hand are likely to show the 15 percent drops required because of reduced hours of operation and staffing rather than practicing green energy consumption. Neither will face a penalty.
CO₂e: The Big Picture
The nuances present in the BERDO report influence what metrics are useful in showing Boston's progress toward carbon neutrality. The collective carbon dioxide equivalent emissions (CO₂e) from each year provides an overview of how buildings are fairing. The unit (a calculation established by the EPA and Energy Star) scales the largest greenhouse gases; namely, Carbon Dioxide, Nitrous Oxide, and Methane to the amount of Carbon that has an equal environmental impact.
The yearly reported CO₂e emissions don't show the downward trend one would expect with the Energy Action and Assessment in place. Instead, the years show irregularities reflective of erroneous reporting, lack of reporting, and failure to account for natural gas leaks. "Natural gas leakages, specifically methane emissions from natural gas consumption, is not factored into how the EPA and Energy Star calculate those emissions," said Silverman about the carbon equivalency unit. However, mapping out these emissions, even with the limitations, shows the scale of the issue at hand. It would take about five Burj Khalifas, the tallest building in the world, to match the weight of CO₂e emissions recorded in the 2019 BERDO report (lowest reporting year).
Energy Use Intensity: Trends Through Standardization
Through the quantification of CO₂e in metric tons, otherwise intangible amounts of gas take on weight comparable to the abundant structures that produce them. However, the limitations of the unit and its inconsistent documentation in the BERDO reports makes it impossible to make cross-structure comparisons.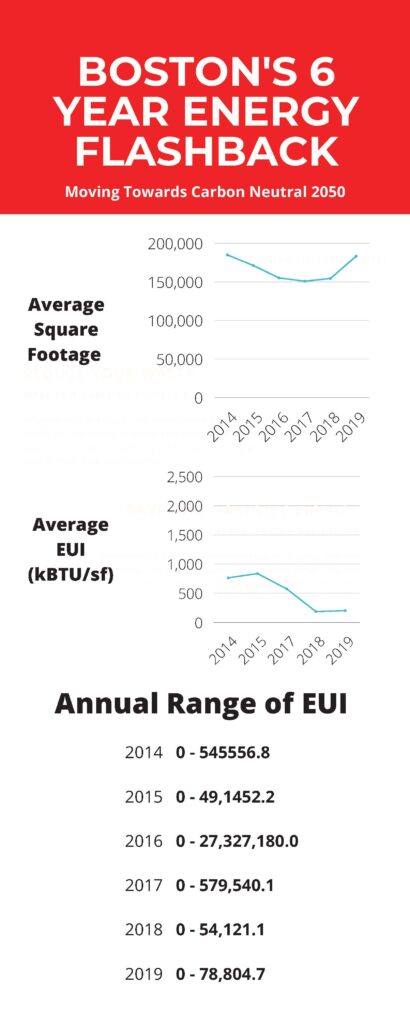 One of the fields the BERDO report uses to relate environmental impact to energy usage is Energy Use Intensity (EUI). EUI is measured in thousands of British Thermal Units produced per square foot (kBTU/sf), the energy it takes to raise a pound of water 1℉. Scaling the amount of energy produced to the square footage of the building that produces it facilitates comparisons between buildings both in and outside Boston. Furthermore, issues in reporting fade as the scope of the comparison is narrowed and outliers are omitted.
Improving Energy Efficiency
Listen to Benjamin Silverman discuss how to improve a building's energy efficiency.
---
The Initiatives and Impact of Colleges in Boston
Boston's 45 colleges and universities have a significant footprint in the city, as well as a particular set of sustainability challenges they are working to overcome, including large-scale energy procurement, management, and resilience planning for diverse communities of tens of thousands of students, faculty, and staff.
As the 2018 IPCC report notes, significant climate impacts that were expected to emerge near the end of the century are now projected to intensify as early as 2040. It also concluded that to avoid the worst future impacts, the full global economy needs to get on a path to achieve carbon neutrality by 2050.
For the City of Boston to meet its carbon reduction and resilience preparedness goals, it needs every institution, including colleges and universities, to have implementable climate action plans with strategies to achieve full resilience and carbon neutrality by 2050.
Looking at colleges in Boston's energy usage should help show us the impact of their energy and carbon footprint as well as how the city is faring against their goal outlined in the 2019 Climate Action Plan. Taken from data that was collected as part of Boston's Building Energy Reporting and Disclosure Ordinance, the Energy Use Intensity (EUI), defined as the measurement of a building's annual energy consumption relative to its gross square-footage, of colleges in Boston has fluctuated from 2015 to 2019.
colleges in Boston EUI from 2015-2019
The average site EUI for colleges in Boston significantly jumped from 10,227 to 16,276 from 2018 to 2019. This is, in part, due to the increase of voluntary reports that can be connected to the announcement of the 2019 Climate Action Plan.
Despite the number rising, while it is important to think about individual actions, the main issue, as represented by the BERDO data, is Boston's large and medium-sized buildings and organizations, such as colleges and universities.
Jon Honea, is an Associate Professor at Emerson College teaching courses on environmental science communication, climate injustice, ecology and conservation, sustainability, science and politics of water, and environmental economics. He discusses in his courses that it is important to make clear the scale of the challenge, how we are seeing billions of tons of carbon dioxide every single year, and so it is not something that a student in their dorm can solve by taking shorter showers or turning down the thermostat.
"It is important to learn the decision-making ecosystem in order to understand who makes the decisions and how can you try to influence that. Is it the president of the university, is it the vice president of facilities, do you need to get student groups to march or sign petitions?" Honea said. "So learn all of the players and stakeholders and what each of them can do and then how you can influence various parts of that to try and make change at Emerson but also applies anywhere."
Emerson College's Initiatives and Impact
Emerson College, a private college in Downtown Boston, has made strides toward its climate commitment, but additional progress is necessary to reach their own and The City of Boston's 2019 Climate Action goals.
In August of 2020, Emerson was ranked third among colleges and universities across the country for their renewable energy by Environment America, an advocacy network of 29 state environmental groups with supporters in all 50 states.
Emerson gets 123 percent of its electricity from renewable sources, placing it third among the 127 colleges and universities that reported data to the U.S. Environmental Protection Agency's Green Power Partnership.
In 2007, Emerson College signed the carbon commitment, in which Emerson agreed to work toward carbon neutrality by 2030. In 2016, President Lee Pelton signed the resilience commitment, in which the College agreed to prepare for challenges caused by climate change. A couple of years ago, Emerson achieved carbon neutrality by buying offsets. Offsets mean that they reduce carbon emissions somewhere else while still allowing them to use fossil fuel energy.
"That is a problem because it is better than not buying offsets, but it also allows, for example, Emerson, to become complacent," Honea said. "That is one thing you have to be sure the administration is not just saying well we are done, we bought our offsets and now we are carbon neutral a couple of decades in advance, so I hope that they are actually continuing to reduce building energy usage and carbon emissions."
Emerson EUI all together over past 5 years
Emerson has done better than the collective colleges of Boston in terms of their Energy Use Intensity (EUI) but only lowered by 25.4 from 2018 to 2019.
Emerson EUI by building over past 5 years
Their EUI has risen significantly since 2015, but that is due to more buildings that were built, such as the dorm 2 Boylston built in 2017, and reporting only select locations. For example, the Paramount Theater and dorm was the only building reported in 2015 by the college. Paramount is also Emerson's least efficient property when it comes to greenhouse gas emissions, being responsible for the production of 13 kilograms of carbon dioxide per square foot.
Honea includes Emerson's sustainability initiatives in his coursework by having his students, along with an environmental organization on campus, Earth Emerson, work on projects to help make a difference. They have been responsible for taking away trays in the dining hall and found that by taking away trays not only did they reduce food waste but also reduced the number of dishes that needed to be washed. This meant less water and less heating of the water. His projects have also helped to spread composting throughout to more places.
"We had a few pilot projects that worked for a little while, but then stopped working after that, so we are still trying to figure out how to make these new systems work," Honea said. "We have also done some meatless Mondays, and the administration and our food vendor, Bon Appetit, are always happy to do those sorts of experiments. It is always the students who push back against, you know, I got to have my hamburger or something like that."
While strides have been made, with the constant turnover of students, creating lasting change is utterly difficult.
Conclusion
Mayor Marty Walsh's plan to be carbon neutral by 2050 is an admirable goal, important to any large city if the commitment to implement environmentally focused strategies is aggressively demonstrated. Our group sought out the data for the past 6 years to see if the city is reaching their self-set goal of carbon neutrality, and in some areas it is. A key step in this plan was verifying that certain buildings will reduce different negative variables each year, namely the EUI, energy usage intensity, which has a downward trend since 2014. This is a big accomplishment on behalf of the city and participating unions because non-sustainable energy usage is one of the biggest contributors to a poorly performing green city.
However, in Boston, nicknamed the College Town of America, colleges and universities take up a significant portion of the city's energy expenditure. Every major educational institution in the city has a webpage, and usually a director, dedicated to environmental responsibility. However, the trend of average college's EUI output is inconsistent, causing concern for the upfront environmentally-friendly claims from colleges. The energy program director, or equivalent, from several colleges were reached out to with no reply. It is probable that Boston college buildings below a certain square footage criteria are excluded from consideration, but with what data is available, it is evident that colleges as a whole are making no cohesive effort to reduce energy consumption. Emerson College's EUI output chart reflects a bumpy, upward trend, which echoes the total college's output, both of which do not comply with Walsh's 2050 carbon neutrality goal. Furthermore, Emerson demonstrates shallow effort in other environmentally friendly aids, such as recycling, which further impact the social-cultural way student and faculty population operates in an increasingly endangered city and global climate.
Silverman has identified the trifecta of going green as a city as the following: reducing or eliminating fossil fuel emissions (particularly with heating, cooking and hot water), and converting to renewable energy. The city as a whole supports these objectives and is on track to succeeding in the goal to become carbon neutral by 2050. However, the energy contributions of colleges and universities could be more effectively targeted and reduced if a committee united them all, and set goals that align with the city's.